[ad_1]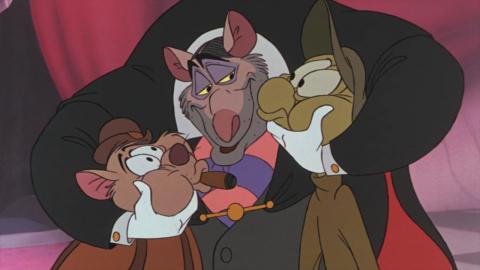 Top 10 Underrated Animated Disney Films
Script written by Sean Harris

Top 10 Underrated Animated Disney Movies
"Cinderella" might be splendid. "Beauty and the Beast" might be perfect. But Disney has a whole host of films equally as grand, that just don't get the credit! Join http://www.WatchMojo.com as we down our picks for the Top 10 Underrated Animated Disney Films!
For this list, we've looked at any feature animated by Disney that hasn't received the fanfare that it perhaps should've. The following are great films that get consistently overlooked!
#10: "Dinosaur" (2000)
The fifth highest grossing movie of 2000 and that year's most financially successful animated feature; upon release, "Dinosaur" was praised for its pioneering visuals of a prehistoric setting. However, in other aspects, the film fared indifferently with critics. Its writing failed to 'wow' as much as the aesthetics. Despite that, "Dinosaur" should surely be better remembered! This post-meteor imagining of Earth was an animation game-changer; the CGI/real world blend breathed new life into the genre, and the opening scene still ranks as one of Disney's best!

#9: "The Aristocats" (1970)
A film noted for being the last feature approved by Walt Disney himself before the animator's death in 1966, "The Aristocats" is more than just a pleasing play on words! With Eva Gabor taking the leading role as Duchess, the film follows a family of upper class felines as they seek to evade Edgar, the greedy butler. Set in Paris, there's a certain je ne sais quoi about this film and its characters. Consistently overshadowed by "101 Dalmatians" as Disney's 'domesticated classic', these cats deserve their cream, and we're gonna give it to them!

#8: "Brother Bear" (2003)
A spiritual saunter through rural USA, "Brother Bear" was originally conceived as a North American version of "The Lion King". A tough act to follow, the film also struggled to stand out against "Finding Nemo", the Pixar effort released in the same year! A heartwarming tale in its own right, however, "Brother Bear" brightens up the Disney formula like few other films. Kenai's story is a life lesson for all little kids (and some big kids too!), while Koda is just cuter than cute!

#7: "The Princess and the Frog" (2009)
A modern take on various traditional tales, "The Princess and the Frog" was on the receiving end of three Oscar nominations… However, it's another example of an excellent movie denied the limelight by Pixar, who released "Up" in 2009 as well! Nevertheless, critics rank "The Princess and the Frog" as a turning point in Disney's history, as it ushered in a so-called 'Neo-Renaissance', at the start of the 2010s! It saw the studio return to traditional animation, and kick-started a string of high-profile, highly acclaimed animated movies! Not to mention it was the flick that introduced Disney's first African-American Princess, and boy did she make an impact!

#6: "Meet the Robinsons" (2007)
A story that zaps all over the space/time continuum, our next movie is snappy, surreal and a timely break from typically Disney storytelling strategies! It's the first Disney film released following a Disney/Pixar merger which placed John Lasseter as chief creative officer, and his eye for comedic detail is clear throughout! "Meet the Robinsons" is a potentially tragic orphan story turned into an inspiring, uplifting tale… Its cast of original characters well and truly shook up the Disney status quo!

#5: "Treasure Planet" (2002)
The original ideas for "Treasure Planet" were actually pitched alongside those for "The Little Mermaid" – the movie credited by most as beginning Disney's late-'80s revival! However, "Treasure Planet" was put on hold for over ten years, and when it was released, it received an undeservedly modest response… A futuristic rethink of Robert Louis Stevenson's timeless pirate legend, it features Jim as the rebel hero well worth rooting for, a gaggle of memorable side-characters, and Silver as the bad guy with a big heart! Shiver me timbers(!), it should be a classic!

#4: "Atlantis: The Lost Empire" (2001)
Another animation centered on an ambitious voyage to a legendary place, "Atlantis" has become a cult favorite among Disney fans. The story of Milo Thatch and his deciphering of the Shepherd's Journal and journey to Atlantis is an action-adventure tale the likes of which live-action cinema had been aching to accomplish for years. However, "Atlantis" was the first foray into science-fiction that Disney ever made! A movie perhaps best remembered for the comic book style of Mike Mignola, it was deliciously fresh, and fantastically dynamic!

#3: "The Rescuers Down Under" (1990)
The second film to feature within Disney's late-'80s-early-'90s Renaissance, "The Rescuers Down Under" is continually ranked under the other films of that period… "The Little Mermaid" smashed expectations, while titles like "Aladdin" and "The Lion King" only further established the newly rejuvenated brand. But this movie, much like the original "Rescuers", failed to fill theatres in quite the same way. Some parts, though, have always been held in the highest of regard – particularly the flight scene. A kid clinging to an eagle flying through Australian skies… It's animated awesomeness!

#2: "The Great Mouse Detective" (1986)
We continue with the rodent-y theme for our runner-up, and a Sherlock Holmes adaptation unlike any other! Released in 1986, "The Great Mouse Detective" saw Victorian England awash with talking rats and mice. The film was more important to Disney than its reputation would suggest, though… It came at a time when faith in the brand was waning, but after relative success, it encouraged producers and management to back future projects, setting the stage for the massively successful movies that followed! It's more than 'elementary'; it's 'excellent'!
Before we unveil our top pick, here are a few honorable mentions:

– "Oliver & Company" (1988)

– "Wreck-It Ralph" (2012)

– "A Goofy Movie" (1995)

– "Teacher's Pet" (2004)
#1: "The Black Cauldron" (1985)
When it was released in 1985, "The Black Cauldron" proved to be a box office bomb! The film suffered a box-office loss, and severely split the critics, with most dubbing it as too dark, too spooky, and too slow… Over time, however, "The Black Cauldron" has finally built up a fan base! Dungeons, dragons, swords and woodland battles have made quite the comeback in 21st century pop culture… And this movie has it all! It's set in the dark ages, and was released during Disney's own dark period… But today, the Horned King takes the limelight!
Do you agree with our list? Which animated film is still unappreciated? For more praiseworthy top 10s published daily, be sure to subscribe to WatchMojo.com.
[ad_2]
Watch online or Download Full Movie Here :
Mirror 1 :
Mirror 2 :
(Visited 12 times, 1 visits today)