[ad_1]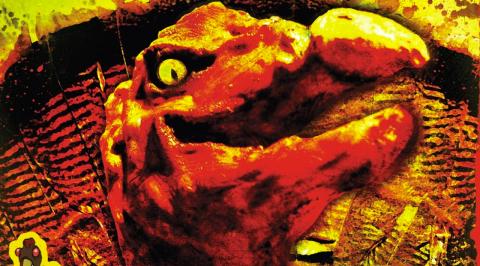 Another Top 10 Ridiculous Horror Movie Creatures
Script Written by Elliot Baker.

Another Top 10 Ridiculous Horror Movie Creatures
Making horror movies can be hard, but it's even harder to take these guys seriously. Join http://www.WatchMojo.com as we count down our picks for another Top 10 Ridiculous Horror Movie Creatures.
For this list, we're looking at horror movie monsters that are impractical, bizarre or laughable. If you didn't see a creature you thought should be here, be sure to check out our first list of the Top 10 Ridiculous Horror Movie Creatures!
#10: Creature from the Haunted Sea

"Creature from the Haunted Sea" (1961)
In a world that has previously seen the likes of "Dracula" and "Frankenstein" curse the screen, imagine sitting in theaters for this 1961 mess. Lacking any real special effects, "Creature from the Haunted Sea" was filmed with no attempt to hide the cheap costume design of its titular monster. This means it came complete with the actor in the suit – which was made of moss and Brillo pads, among other "household" craft items – stumbling over every move he made. Actor Antony Carbone reported that the Creature elicited more laughs than fear while on set… with its big googly eyes and pipe cleaner claws, it's not surprising that it also brought on the laughs from audiences as well!

#9: Nazi Zombies

"Dead Snow" (2009)
Despite an unforgettable performance by Ørjan Gamst as Standartenführer Herzog, there's just something ridiculous about imprinting political notions onto zombies. These Jew-hating monsters can be described as a combination of typical pop culture zombies and Norse mythical beings known as Draugr. Arriving onto cinema screens at the height of the zombie boom period, these undead creatures in Nazi SS uniforms proved a little too silly a concept for genre fans and may or may not have instigated a decline in pop culture's obsession with the flesh eaters. Hey Nazis, stop ruining things for us, won't ya?

#8: Black Sheep and Weresheep

"Black Sheep" (2006)
Mary had a little lamb that grew up and started eating everyone around her. Think the horror world is running out of ideas? Think again. This New Zealand comedy horror decided it was time to bring livestock into the genre, and give them a taste for human flesh, of course. In this Jonathan King-directed flick, the once cute and cuddly titular animals are created in a scientific experiment and transformed into vicious and horrific monsters out for blood. But think about it… they're just sheep. Not zombies or aliens… just demented sheep. But that's not all; wait till you get wind of their gas-related weakness… And to top things off, if a human is bitten by one of these black sheep, he or she will, in turn, be infected and transformed into a violent, carnivorous mutant, known as a were-sheep. Now if that's not ridiculous (and probably hilarious as well), then we don't know what is!

#7: Sharktopus

"Sharktopus" (2010)
A shark is scary enough on its own, and we see how an octopus can evoke fear as well. But mixing the two together doesn't necessarily mean it'll be scarier. In the 2010 sci-fi horror "Sharktopus," Eric Roberts' Dr. Nathan Sands is tasked with producing a brand new superweapon for the United States Navy through the merging of two terrifying underwater creatures. The result is the gigantic Sharktopus, which uses its octopus tentacles for further propulsion and grabbing attacks, while its shark head devours tasty meals. Come on, now, just take a look at it and tell us this idea didn't actually originate from the mind of an eight year old kid!

#6: Master Sargeant Sam Harper

"Uncle Sam" (1996)
It's not every day that movie characters can say they were killed by American patriotism. In this mid-'90s horror flick, a war veteran is killed in combat but finds a way to rise from the dead and cause mischief and death for those around him. After first rising from the plane wreckage that caused his death, he later reanimates in his casket on the 4th of July and becomes a demonic Uncle Sam hell bent on ending the lives of any who disrespect America. Too ridiculous to be anything but a comedic monster, the demented Uncle Sam dresses in good old red, white and blue to take his rage out on the enemies of 'Murica wherever they may hide. Tax cheaters and flag burners beware as the biggest horror movie patriot is after you.

#5: Anton Tobias' Hand

"Idle Hands" (1999)
Imagination is a powerful tool and it was clearly used to produce this horror comedy all about an evil right hand. After his parents meet a grim fate on Halloween, Anton Tobias starts to notice several more strange occurrences as a result of his right hand. The film's title stems from the phrase ""idle hands do the devil's work" and is thus quite appropriate, considering that we soon find out that the protagonist's limb has become possessed, leading to a killing spree. And if that idea isn't ridiculous enough for you, then let's throw in the fact that not even cutting off the hand stops the body part's murderous intentions.

#4: Eebee

"Evil Bong" (2006)
Don't do drugs, kids, and especially don't do drugs using possessed filtration devices. After a group of stoners lands their hands on a new bong, they discover it has extraordinary powers that let them live their greatest desires… okay, more like it allows them find themselves in a strip club where the dancers wear very interesting looking bras. However, they quickly realize the bong – named Eebee – has evil intentions, as members of the group start dying one by one. With a premise as ridiculous as it sounds, there's no denying the insanity of this movie monster.

#3: Killer Condom

"Killer Condom" (1996)
For the most part, condoms are supposed to make sex a lot safer, but for every rule, there is an exception. In this German horror comedy, Detective Luigi Mackeroni is sent to the Hotel Quickie to investigate a series of strange and violent attacks in which multiple men have their private parts bitten off. It's soon discovered that the culprit is an army of ravenous condoms. Sporting the tagline "the rubber that rubs you out," this absurd movie monster has to be seen to be believed.

#2: Turkie

"ThanksKilling" (2008)
Pilgrims beware because after you watch this film, you may want to find a new Thanksgiving tradition. After being created by a shaman to get revenge using necromancy, the aptly named Turkie is said to appear every 505 years on a quest to murder white people. Spouting quips to various victims along his path, the evil bird even goes so far as to murder a truck driver that propositions him. Yes, the villain of this horror comedy is a talking, serial killing TURKEY. Need we say more?
Before we unveil our top pick, here are a few honorable mentions:

– Killjoy

Killjoy" (2000)

– Gargons

"Teenagers from Outer Space" (1959)

– Death Bed

"Death Bed: The Bed That Eats" (1977)

– The Mangler

"The Mangler" (1995)
#1: Ro-Man

"Robot Monster" (1953)
Full name Ro-Man Extension XJ-2, this Evil Moon robot used his death ray to destroy most of the humans left on Earth. Only a small set of survivors remains and that's because they're immune to Ro-Man's weapon. And while the production budget of this black-and-white sci-fi horror stood at approximately $50,000, clearly none of it went towards to building a costume for its titular monster, as it basically comprises a gorilla suit and a space helmet. In fact, the actor playing Ro-Man himself, George Barrows, built the costume! Despite its monster's terrible design, "Robot Monster" has garnered a cult-like following throughout the years that helped it climb to the top of our list.
Do you agree with our list? What do you think is the most ridiculous horrormovie creature? For more hilarious top tens published, be sure to subscribe to WatchMojo.com.
[ad_2]
Watch online or Download Full Movie Here :
Mirror 1 :
Mirror 2 :
(Visited 16 times, 1 visits today)